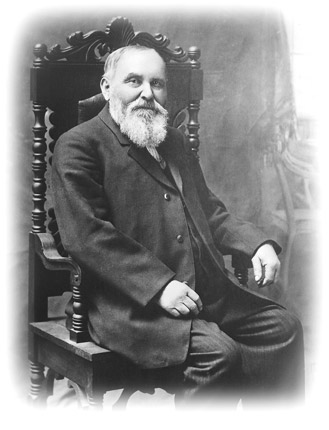 As many of you already know, F & F Industrial carries only the highest quality industrial tools and supplies.  From time to time, we like to spotlight some of the prestigious manufactures whose product lines we carry.  Today we are discussing Klein Tools, the 155 year old manufacturer of quality hand tools, electrical tools, lineman's tools and more.
Klein Tools was founded by Mathias Klein, a German immigrant who settled in Chicago back in 1855.  Mathias, a skillful blacksmith, crafted his first set of side cutting pliers as a request by a local telegraph lineman in 1857.  The company grew rapidly thereafter as the civil war and otherwise rapidly growing American industry provided fuel to an ever expanding national infrastructure.  As the telegraph grew and eventually evolved into the telephone, the demand from professional tradesmen for Klein's high quality hand tools grew as well, and by 1910 the company's catalog had expanded to over 100 different sizes and types of pliers.
The company continued to grow steadily throughout the early twentieth century and was a major supplier of hand tools to the U.S. Government during World War II.  Then, starting with its first acquisition of R.H. Buhrke, a safety belt and occupational protective equipment manufacturer in 1968, Klein Tool entered into a period of rapid growth and expansion.  By 1989, Klein Tools had acquired three additional companies, including Vaco Products, and had added a new 125,000 square-foot distribution center in Cedar Rapids, Iowa and new 24,000 square-foot manufacturing facility in Roselle, Illinois.  Finally, in 2011, the company opened its Advanced Manufacturing Technology Center in Mansfield, TX.  This solidified Klein as a premier American manufacturing company with a total of nine large facilities operating within the United States.
F & F Industrial has been a distributor of Klein Tools since 1982 and is proud to be celebrating 30 years of supplying quality Klein products.  Over the decades we've had the pleasure of providing countless professional tradesmen with the Klein tools they use to keep our country's infrastructure running.  We look forward to providing our customers with the latest product advancements from this great American tool company.
For more information on Klein Tools please visit KleinTools.com or contact F & F Industrial Equipment Corp at 1-800-724-ASAP.  We'll be more than happy to assist you in finding the right Klein Tool for your application.
---